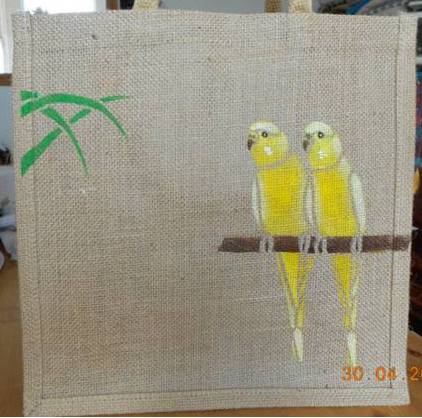 Hand Painted Budgie Jute Bag - Yellow
Individual. hand-painted. biodegradable Jute Bag
Yellow Budgie
Individually hand-painted, environmentally friendly, jute bags by June Bradbury.
June designs and cuts the stencils herself and because each one is individually painted, they are never identical and may differ slightly from the one pictured but this only makes them, individual little works of art!
These bags approximately measure

Width: 30 cm
Height: 30 cm
Gusset: 20 cm

Although we only currently feature Companion Birds, June has lots of amazing designs to choose from.

This is a perfect sized bag if you are popping into town, travelling on public transport, for picnics, or going out for the day. It is light and though it might look small it has a deceiving large capacity due to the wide gusset which also allows the bag to stand unaided. It has a padded handle which sits comfortably in your hand or on your forearm
Jute is a natural based vegetable fibre composed of cellulose and a typical jute bag has a lifespan in excess of 1,000 plastic bags. Jute is a very sustainable crop and is totally biodegradable. The bags

are sourced

from a

company

that have won awards for their ethical and environmental standards. The bags have 'climate neutral' status,

are shipped

rather

air

freighted and are fairly traded.
---