Special Needs
Does your Parrot have special needs due to an injury, deformity or arthritis?
Testimonials
We always love to hear what your feathered friend thinks of our perches and toys.
---
Hiya Karen
From the surprise selection box I ordered, I have left, one little tuft of seagrass, a leather strip, a chewed piece of orange pine with some chewed leather on it, a fragment of maize mat and some paper rope ends that held the Shredtastic refills on. Very eco friendly and the toys were obviously a success as there is very little left. I find mass produced toys start off well but then the birds seem to get bored with them half way through, your toys however are destroyed almost completely, which makes them great value. Sorry I couldn't send photos of this latest purchase but the birds got to them before me and my camera could!
from Karen
---
Hi Karen,

Hope you, Darren and the gang are all well.
Apologies for not getting back to you sooner with an update.

I can say that the new leather has definitely been a huge success. As soon as the macaws had discovered it they happily chewed it all up. There's a couple of pictures below of Rocky chewing away at pieces he'd bitten off. The fact that they could get their beak into this leather more easily helped I believe as they could more easily rip small chunks off. Previously I'd find entire leather pieces or much larger chunks on the cage floor but not this time.


Asim
---
Zippy is absolutely delighted with his gorgeous new perches, colourful swing, toys and smart bell. He absolutely adores the swing and his perch toy is nibbled on frequently. We are hearing the bell ring more and more and it is so sweet watching him investigate all the wonderful new additions to his cage.
On behalf of Zippy we would like to say a huge thank you tweet for all the wonderful new items in Zippy's cage and we look forward to ordering lots more lovely things from you in the future.
---
Hi Karen,

I just wanted to let you know that I received my parcel today.
Gus absolutely loves his new perches! He didn't hesitate to climb on and was very happy sitting on the top his cage.

Thank you so much, they are wonderful!!

Kim & Gus x
---
Hi Karen
Well, I think we can say the perch is a success :-)). I took these photos about 2 minutes after I attached it to the top of Skye's cage!
Skye was totally thrilled with it immediately she saw it and couldn't wait to get stuck in. Bertie is more cautious but let me pop him on the perch and he went over and had a little nibble of the crinkle paper (until Skye bumped him off.) It's absolutely gorgeous - and thank you so much for adding the extra toy, it's really kind of you. It's amazing how their little eyes really do light up when they see the exciting wooden perches and toys! :-)
Thanks
Eleanor, Skye & Bertie
PS The extra crinkle paper has been great for Bertie - I tied just a few strands to his cage next to one of his mirrors and he is thrilled with his 'toy'! While Skye has been munching away on her great big Boomer, Bertie has been twiddling his paper strands with great satisfaction! He's not a great chewer and doesn't like anything big in his cage so it's working really well to help him feel included!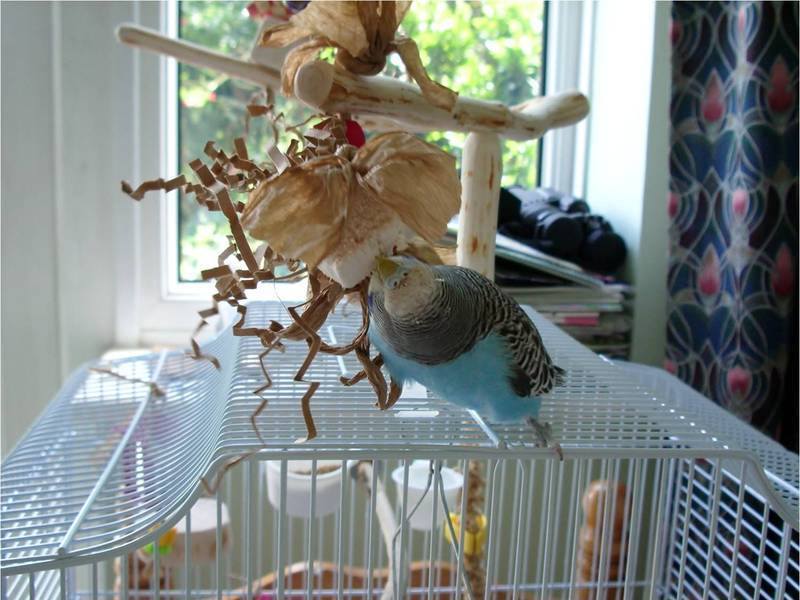 ---
Hi Karen
Just wanted to share some more photos of Zuko and Sherlock on the other toys you made. They are loving them all even though they won't let me take some good photos :-)
Thank you again.
Garry and Suzanne
The boys have a really large flight cage so we just adapted the top of The Tower to make it more cage friendly and I have to say it works well giving lots of levels for them to explore.
---
Dear Karen

We are delighted with our flat perch. We took a little while getting used to it but we are always like that with anything new in our cage.

We love being on it as it stretches our feet. We love the kabob on it and I know mum thinks it's easier to use than the hanging type.

We are sorry it's taken a while to send a photo but it's been difficult for mum to get us together on the flat perch long enough to take a photo!

We have asked for another flat perch for Christmas or birthday.

Thank you

Milly and Milo xx
---
Hi Karen
Pit stop update:
I have used The Pit Stop every day with my two, placing cored apple slices, broccoli stems, whole chillies, pepper pieces, whole carrots, celery sticks, strawberry, whole banana, green beans, et cetera in several different combinations and place The Pit Stop on top of Fergus' cage as it has a flat top. I always have the bottom or top piece of apple that has been cored and has skin on with skin facing the wood just as a protection measure, then l load skewer with the other items adding the piece of apple with skin side of apple towards the wood last.
My two nibble from the fruit and veg all afternoon without bothering to destroy the wood or fling The Pit Stop on the floor (which they could if they wanted to). After four hours I discard all remaining bits and wipe down Pit Stop with F10 wipes, ready for the next day.
I think the size it is now is actually perfect for Medium to Large parrots.
Rhonda, Ms Rambo & Fergus
---
Hi Karen
Just to say a big Thank you for the fab perches and toy. It fits perfect, can't get Betty on it yet but Boris loves it. He's nearly stripped his willow perch bare.
Will be buying more things
Tracy
---
Hi Karen

Sorry for not getting back sooner. The budgies are loving the toys, we don't put new stuff in until the weekend so we can ensure they are ok with it. We started with the swing and shreddie toy and they love it. I have attached a photo but each time I tried to take it they stopped playing :-)

Thank you for the excellent work you have done.

Garry, Sherlock & Zuko
---
This toys is aptly named Purdey's Prerogative. Purdey is a re-home bird and in his previous home he had no toys. When he first came to live with us almost 3 years ago the only thing he showed any interest in shredding were our fingers (or Bingers as our AGP Wingnut calls them). Purdey has gradually started to show interest in toys, starting with simple shredder roll, working up to birdie bangles, which are now his favourite. Recently we asked Karen to make him a toy combining these elements; Karen sneaked in a few extras and Purdey demolished the lot, now he is working his way through a Wild Thing. Purdey is a very good boy, after his bed time walnut he cleans his beak on his toys, it is a very endearing little bed time routine he has developed to go along with his bedtime cuddle.

Karen & Purdey
---
I just want to say Thank-you to you both Karen!

The perches Darran crafted for Bruno's Cage and Play Gym are beautiful.

He loves to walk up and down on his new cage perch and I love the fact that it's a good diameter for his feet. This is so much better that what came with my cage. The different sizes are so important for his health!
I think it's safe to say you got me as a customer for life as you always deliver, and you always keep me informed. The fact that you ask questions to make sure your produces are right for my Grey is a good indicator that you care and from the toys and perches I have had so far over the last 4 months, it's clear to me that you do.
I look forward to ordering more products from you soon
Leigh & Bruno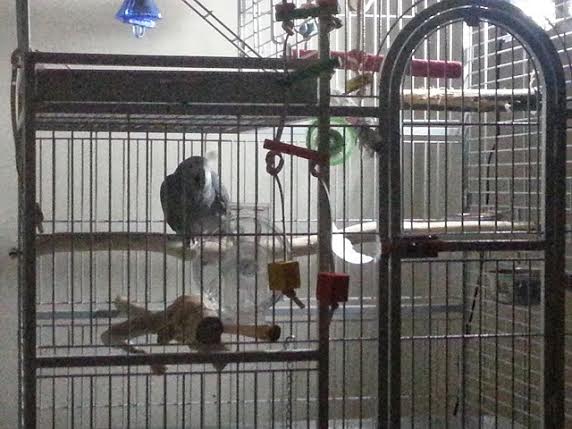 ---
Hi Karen

Well I think you have surpassed yourself, received the swing on Saturday.

I hung it from a nearby curtain pole so they could get used to seeing it and whoosh like a flash they went straight to it!!

Yoyo is a little more reserved and I think that with time he might use it. But the funniest thing was one of the Patagonian's dive bombing it cause he wanted a go, it was hilarious!.

Thank you yet again for you marvellous products, so much care and attention to detail, brilliant.

Hilary & Bubble & Squeak, Yoyo, and our 2 Patagonian Conures who are "SafeHouse" guests for Birdline.
---
Hi Karen
The package arrived today and I am totally IMPRESSED with the perches – they are beautiful and full of character. As for the two and three bead foot toys – also impressive – so far the two bead is winning out – Miss Rambo loves to put the beads in her mouth but today she was not playing. Fergus on the other hand held onto the two bead one and I was able to get a couple of pictures but will wait and get more once he too is in a more playful mood – they were more interested in the perches.
I was just looking at Fergus' hanging kebab toy and he is getting through it quite nicely – I love it when I spend money and they appreciate the toy and play with it and actually use it for what it is meant for. Over the years I believe I have wasted hundreds of pounds on toys that were not quite what a parrot likes and end up in the trash or elsewhere BUT I have to say I am not disappointed in any of the toys that I have gotten from you – the toys appeal to me and my two parrots – they actually enjoy them and I love the colours
So, will be buying loads of toys from The Natural Bird Product Company for years to come.
Rhonda, Ms Rambo & Fergus
Ooh Miss Rambo & Fergus just got their new perches and are already exploring them.
And of course Miss Rambo and Fergus have to check out each others perch and then both decide to go into Miss Rambo's cosy house together.
---
Hi Karen and Darran,

Your parcel arrived yesterday afternoon, and I've just unpacked it - it's like budgie Christmas here! Everything is beautiful, so well made and so well packed for the journey! Every little bag and parcel was exciting - the toys are just brilliant! The perches are works of art in beautiful wood!

The slate base and perch to put by the window are so elegant, a real piece of room furniture, even without budgies aboard. I'm really thrilled to bits, and I can't wait to get the budgies' space in the cage and room set up with the new items. I'll be setting up the budgies with their new perches and toys over the weekend, and will send photos.

Many, many thanks, and I'll be sharing the name of the Natural Bird Product Company with anyone and everyone I know who has or would like to have birds.

With best wishes,

Catherine, Bobby & Merry
---
Hi Karen

Superbly, superbly packed, it was like Christmas all over again!!!

Once I have the cage in place, still probably a few weeks away, If it's OK with you I'd like to contact you and run through a few things.

I couldn't be happier, the branches look fab and the toys are works of art!

I must admit that after two weeks here I'm desperate to see the sun again!

Kindest regards and many thanks

Gad & Pochi
The lovely Pochi is our 1st customer from sunny Israel.

We were asked to make some perching suitable for a very bespoke cage and some natural toys to keep her occupied in her new Des Res when it arrives.

We are really looking forward to the pictures once everything is in place.
What do you think of Sparx' photo? You can see the beam on his beak can't you?

Sparx went straight in for the stand and the cage perch. His eyes were wide, crest was up and he didn't know where to go first, lol. He loves the balsa, and I will have to order refills in the New Year.

Boomer has yet to discover the stands and toys. He prefers to watch and wait while the others have ago.
Boomer loves his flat step (it's gorgeous!) and I definitely want more as the others like it too and there has been some spats between the three of them for who is going to roost on it.

The toys are fantastic Karen and you can see that they were made with tender loving care.

He is now happy on the stand or the cage perch, and loves to have a preen on them too.
So...Thanks you so much for starting your business. There is nothing like your products out there, and your foresight and understanding of our precious companions will no doubt allow owners the opportunity to give birds, up and down the country, a better and more positive environment to live in. I really don't want to share you with anyone, but I know I have to.
Caroline & the flock.
We got these pictures not long after and it's lovely to see that Boomer also made it onto the toy perch and Millie got to enjoy the Balsa as her beak is not at full strength at the moment. Even little Skye managed to reach up to grab something to shred.
---
Hi Karen,
Thanks for your help with the feeding platform. It's hard to find both entertaining and safe products for a parrot but you do both.
So far Yoyo loves his bell, within a minute or so of putting it in the cage he was ringing it! I think it's because its stainless steel and he likes the reflection.
We fitted the feeder as well which fits perfectly, so far he is very wary of it but is eating out of the bowl but hasn't yet stood on the feeder.
It's very hard trying to safeguard cages and toys against injury to the birds which is why I was chuffed when I saw how well the bell was designed, no chance of him ripping it apart or getting caught in it
I thought I would also let you know about the two zebra finches we have, they absolutely love the stepping stones. We have 3 stepping stones and the two birds love sitting on them and roosting at night. Sometimes the two of them manage to stay on the one stone.

We will be looking for a new cage at some point in the future so no doubt you will receive more orders from us.

Thanks again

Mark & Yoyo
---
Hi Karen,

Just to let you know that the parcel has arrived yesterday afternoon. We set up Quasie's cage last night and he is very much enjoying the platforms straightaway, walking around to his millet and food dish. This morning he is enjoying sunshine on his platform and also interested by the other two birds in their cage next to his. I will post some photos when he is a bit more settle down.

Ooh also a big thank you to you and Darran. The perches and platforms are amazing quality, topnotch!! I hope he doesn't chew too much ;D We are hand rearing a lovebird chick for him at the moment, so he doesn't have to admire the lovie couple next door ;P soon he will have a buddy to cuddle with.

Thanks & Best Wishes
Wei Wei & Quasi
---
Hello Karen
The perches are here. They are very cute. I love them! I'm going to put them into the cage and when I have a time I will send you some pictures.
I'm very glad with the shipping, I was able to put the tracking code into Correos (Post office of Spain) after the package went out from UK. The delivery has been very fast, as well.
I've got to tell you: Thank you!! I will suggest your website to all my friends who have birds.
The perches are beautifully designed and handmade which gives added value. I love my budgies have a little piece of Scotland in their home.
We keep in touch to send you the photos.
Kind regards
Isabel, Dexter, Eilean & Eowyn
---
Hi there
Just wanted to say I received my order and am delighted with it - though I think my little flock are even more delighted. The only problem I had was that everyone wanted to roost on the same perch so think I am going to have to order some more.
I've taken a few photos of Gertie and her daughter Sparkle enjoying the windmill toy.
Will definitely be a returning customer, thank you very much. Thanks again for such great items and such a friendly service we will definitely be back for more.
Tracy (and 22 very happy budgies)
---
Dear Karen

The package arrived today thank you very much. The birds got very interested as I was rustling about in the box! Everything looks really good and I am excited to set out their cages with their new things! Scamp looked very excited at the paper rose, it got the eye flare, head nod AND the beak click of approval! I've promised she can have this after the Saturday cage clean! Looks like I'll be making toys over the weekend - with a little help from Scamp and Shrimp I'm sure.

Thanks again for all your help,

Helen (and Scamp & Shrimp!)
---
"My name is Basil and I am a very handsome Moustached Parrot from Asia (actually I was bred in Holland). I was given to my people in exchange for a bag of spanners as I had a damaged wing and tail feathers and could not fly; a bit of an insult for a handsome prince like me but never mind, these things must be endured. Over the last year all that has changed and I am now a very good flyer. I am still moulting in this photo, which is a bit embarrassing but my tail feathers seem to be growing without breaking this year, must be all the fruit, vitamins and baths I get. I live with lots of other parrots but I share my apartment with Professor Plum (a Plumhead who I am in love with), Sundance (a Jenday Conure who is in love with me) and Kermit and Bruiser (a pair of Clelestial Parrotlets who think they are big and swing from the Professor's tail). We also had Penelope Plum living with us but she got fed up with Kermit and moved in with Angel Eyes, Elvis and the Linnies; she's much happier there and they seem to like her too so all's well that ends well. It is quite a diverse flock here and we break many "rules". Anyway, this amazing swing has appeared in my Kingdom and it is totally shredtastic! I have a big beak for my size, it is a very attractive coral colour and I need to shred lots of wood and paper and stuff to keep it in pristine condition for when I feed Professor Plum and show him my fabulous Bollywood dance. Sundance is trying to teach me Conure body language, which seems to involve a lot of cuddling and preening but I prefer to do my dance, although I do give in and preen her too just to get her off my back so I need to keep my beak in tip top condition for preening Sundance too. I am the shredding Guru for this whole kingdom and with this re-fillable swing I can take my shredding demonstrations to a wider audience. Shredtastic!!"
---
Hi Karen,

Our birdies are loving their new perches and toys. I can't believe how they have transformed the cage in every way! The toys are all little works of art and the perches are beautifully made, true craftsmanship. They really are stunning and I still haven't tired of looking at them. George's cage is most definitely 'High Rise turned Des Res'!!!

It's so entertaining watching George, with his new friends, Mildred and Robin, who isn't so quiet these days, haha! They now use all the space in the cage as we have dotted the toys and perches around from top to bottom, as you suggested.

They LOVE shredding the agave, balsa bites and papers and I am making a list of their favourites, although I do still have some spares that you kindly put together for me. Mildred gets rather territorial with the flat perches too and I can't blame her! She stands on them, lies on them and rubs her head all over them, poor George and Robin will have to wait for their turn as Mildred, true to her namesake, really does rule the roost!

I'm so happy to have found your website and you have made learning about and caring for the new flock a fun, personal experience for me. Your knowledge and dedication was clear from the very beginning and when the parcel arrived, the contents just blew me away, be sure I'll be back for more!

Best wishes
Geraldine
This was really fun for us as the Trio had a quite a tall cage and we wanted to utilise as much of the space as possible for them. So by stratigically placing perches next to toys at varying levels they get the full use of all the space. So thank you George, Mildred & Robin for helping us to think outside the box on this one.
---
My name is Mimi. Up until two weeks ago I was stuck in a pet shop in a cage that was too small for me. I had boring food, uncomfortable perches, too many visitors and not enough toys. I had been in that blooming pet shop for the best part of a year and nobody took me home because I kept growling at people. Now my life is completely different. I have a big cage and lots of other birds to talk to, including a handsome male African Grey parrot called Wingnut, who is teaching me how to fly properly and one day I hope to talk as much as he does. I've only got two humans but they are permanent, which is much better than all those temporary humans in the pet shop. My new humans ordered me some fab perches from the Natural Bird Product Company and one of them has this super shred-tastic toy attached to it, not only that but the perch fits my feet and is really comfy to perch on. I loves toys, especially ones I can shred but I'm also deeply into bells. Wingnut told me that my humans have also ordered us birds some foot toys, a room swing and some stuff that they are going to make some toys with; I can't wait to investigate all these new things. I think the Natural Bird Product Company must be run by parrots, not humans as they seem to know just what is right for us parrots.
Thanks
Mimi & Karen
| | |
| --- | --- |
| | |
---
Hi Karen
Coco: If it would be my friend Stefanos, he would say...thank you Karen for your concern, your excellent service, the perfect packing and the fast delivery!
But it is me who is talking now.. So thank you that you gave me the opportunity to step on natural wood and massage my tired toes, plus that I have the benefit of the free pedicure ; ). It's really fun to scrub my beak on the curves of this wood. The only bad thing, is that I had the rumor of the perch destroyer but now because of this wood(I never saw it and tasted it again before), I think I will lose it : (.
Screams and screeches of joy from Sweden!
Coco
| | |
| --- | --- |
| | |
---
Received parcel Monday afternoon. Very pleased with the quality of perches especially the full length and the forked perches. They will look great together. So glad now that I added a full length perch to the order, it's made a big difference. I will send some photos in a day or two when I've put it all together. Thanks also for the freebie toys and perch, much appreciated.
S

tephen is getting his cage ready in advance of the arrival of 2 baby Tiels. With an assortment of perches in different diameters, some with the bark on, semi bark and stripped this offers a great variety for keeping little feet fit and healthy.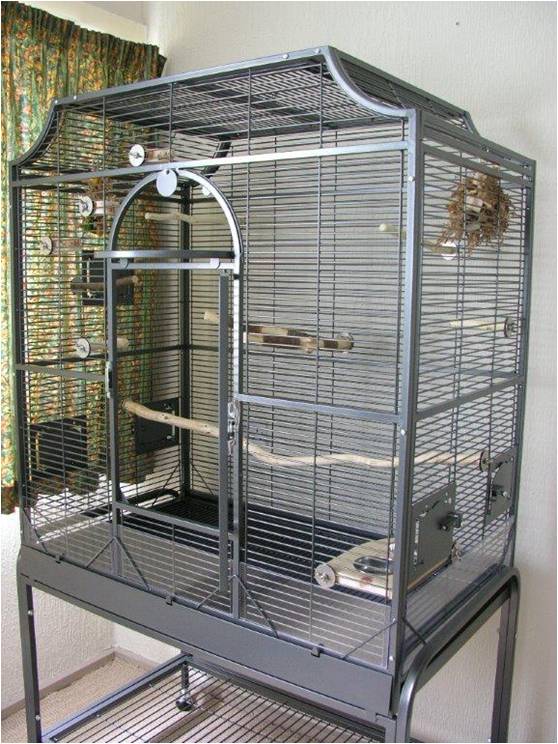 ---
---
Dear Karen.

Thank you so much for a wonderful perch. Excellent craftsmanship. Really good size. Laila took to it immediately without hesitation and yet she always refuses new items in her cage.

I will be ordering other perches too and I will be making recommendations to other companions to purchase from you also. Also thank you for the extra willow perch. We will gradually get Laila acquainted with this one.

In Laila's own words "shukran" thank you.

Kind regards
Dr. A. Jamal
---
Hi Karen,
my parcel of perches and platforms etc arrived this morning, and I thought I'd let you know how very happy I am with it all. It looks fantastic in the cages except for one of the cage mounted toys which has suffered badly since it's been here and will need some parts replacing very soon as they've had so much fun ripping it apart!
They love the mini platforms so I'll definitely be getting some more of those too. Fabulous, thankyou so much!!
| | |
| --- | --- |
| | |
---
Hi Karen
I spent today with the children creating our first toy :)

I've attached a few pictures. We thought we'd tackle the smaller toy first. Most of the items were new although a few of the previous blocks and paper were reused as there was still some life in them.

I also introduced Rocky and Noodles to the shreddie teddie toy which immediately drew their interest and received some solid pecks. You can see it in the background in one of the attached pics. I'm sure they'll enjoy destroying it...
As always I'm impressed with the quality of your items and won't hesitate to come back for more!

Thanks
Asim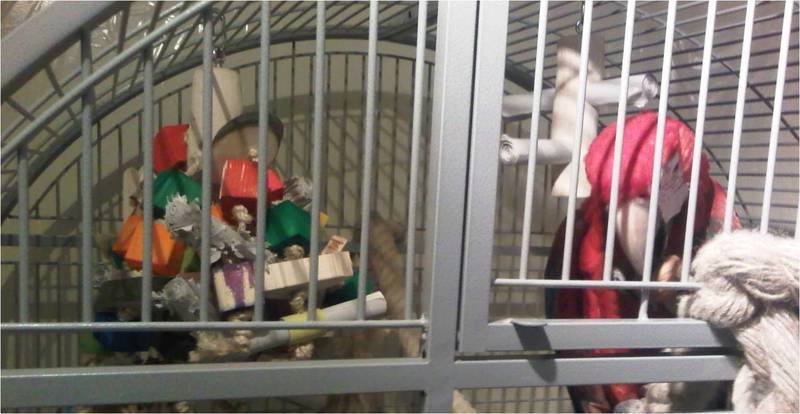 ---
I just wanted to let you know that Charlie and Alfie love their new perches, the flat ones in particular have been a big hit! It has taken a while but they have finally plucked up the courage to explore their new toys and are loving chewing on the paper rope!

Thank you for such lovely products!
---
Hi Karen,
Just to let you know we received the toy kit yesterday. It's perfect. We will definitely be ordering again if they are a viable product for you to do.
Thanks,
Gareth & Banjo
Hi Karen,

I just wanted to say a huge thank you again! Joey is loving his toys! And especially likes sitting on the little flat perch...and the bell! It's so cute - in the mornings he would very softly hit the bell as if to say 'I'm here, are you awake yet' - very cute!

Very very happy and delighted customer :):):):)

Thanks so much!

Take care,
Piet / Helena
---
I cannot thank you and Darran enough for all the work and effort you have put into this. Charlie is a lucky wee boy having you both looking after his welfare, I am so pleased at having found your website, I don't think I have come across a couple so dedicated at what they do.
| | |
| --- | --- |
| | |
---
Karen came to us initially looking looking for chunky perches to help Purdey, below you can meet some of her flock.
Purdey is a mature Yellow Crowned Amazon who we took in because he had blotted his copy book in his previous home. Due to being perched on nothing but dowell and kept in a small cage in his previous home, he has confidence and balance issues. Karen & Darran have created 3 perches for Purdey, one big chunky perch for him to roost at the top of his cage on, one standard length perch that he has at as water bowl and a longer perch that doubles as his feeding perch and "cuddle" perch. It took a few days, creative thinking and a lot of patience to encourage Purdey to use his new perches but since he has started doing so he is a more confident bird. We have been able to remove all of the dowell perches from his cage and he loves his new perches now. The varying widths and contours will be great excercise for his feet.
| | |
| --- | --- |
| | |
| | |
| --- | --- |
| | Urk & Orinoco are two Orange Winged Amazons; we liberated Orinoco from a dull and damaging life in a pet shop and Urk came to us because she was in need of a new home. Urk decided to move in with Orinoco and she had done wonders for his confidence. The happy couple need perches that are robust yet long enough to accommodate two loved up Amazon. Karen & Darran have done a fantastic job and Urk & Orinoco are delighted with their new perches, which are a great fit for their feet. |
Team Conure: 4 green cheeked conures (all very tame) and 1 black capped conure (not tame at all). Conures are all about fun and the Runway perch and Stepping Stones are right up their street. They love to climb up, down, along and around again (like a bunch of kids in a fairground wonky house). Our conures love to fling themselves at the cage wire to see what's going on; the great thing about these little steps is that Oberon, Portia, Cobweb, Titania and Calamity can hang out right at the front of the cage without rubbing their tail feathers off.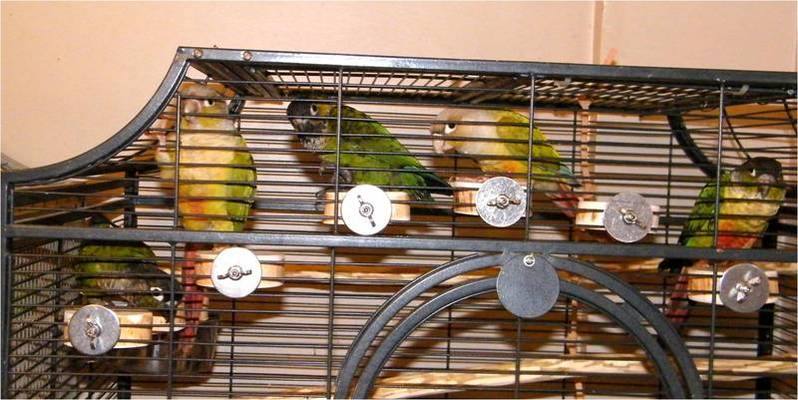 Mali & Moses are two re-home Senegal parrots; coming from different previous homes, they met at our house and fell in love. These lovely compact little parrots proved a double challenge; not only did they need nice comfy perches to fit their feet, those perches needed to be of a wood capable of withstanding the infamous Senegal beak. In a nutshell, Mali & Moses are a pair of little carpenters and love nothing more than to demolish wood. Karen & Darran worked hard to create perches that look stylish, are functional, fun and above all, durable. Mali is modelling the plain perch, with Moses (who is shy) plucking up courage to show off the play perch in the background. Thank you Karen & Darran ...... job done!
Karen Anne Chudley
Hampshire
| | |
| --- | --- |
| | |
Just an update on where we are with contrary Mary otherwise known as Misty.

The willow perch is in her house and she is eyeing it from a distance but we will persist.

The other perch is an exact fit (you are the first of I don't know how many companies we have used to actually get it exactly right). she has taken to it like a duck to water & the small variances you get in the make up of the perch has definitely helped with the exercise she needs in her foot. In a week she has not had one episode of cramp & that is the first time that has happened for a few years.

When she decides to get on the other perch I will send you a photo & we will order from you again.

My thanks for all your help & for doing an incredible job at a very reasonable cost.
---
Hi Karen ,

Having received last week yet another order from you I feel it is about time I mailed you a heartfelt thank you . Think this is my fourth order from you and from day one your service and products have been second to none. I have bought everything from perches ( flat , Hazel and Willow ) to Toys and refills plus components to make my own . Absolutely everything has been of excellent quality . You even made a special bespoke toy for a Parrot I sponsor at the sanctuary, taking all his beak problems into consideration . When talking to you Karen ,your love and understanding of birds is obvious . I have kept birds for many years ,I wish I had found you and your web site shop a long time ago . I definitely would recommend you to anyone who keeps companion birds.

With Regards
Kate with KC and the Gang
ps
Just to let you know what a great success the Fussy Feeder is. The budgies think its wonderful. Putting the skewer in the middle has really worked, as two can feed at the same time.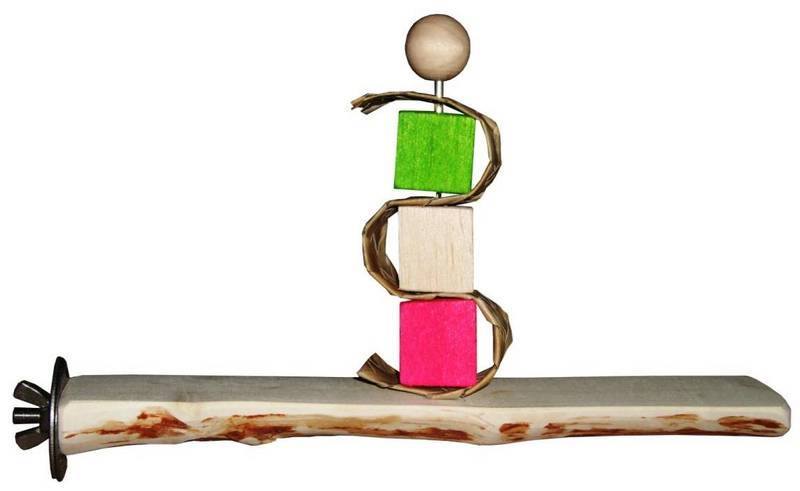 Kate had a problem attaching Corn on the Cob for her flock of budgies, so we supplied this flat perch with a central stainless steel kabob. To get the birds used to it we just added some toys. Now they are enjoying all their fresh tibits on it.
---
I have used lots of online companies before including ones for birds but I have never come across one that is so dedicated to their customers and birds like this one.

The communication has been spot on as have the items I've received.

I first made an order for two flat perches and could not believe how quickly they arrived not only this but how well they were made so much so I went on to order a

Activity Windmill perch & a Tropicana 2 Tier Parrot Swing for Mini to Small Birds...

All of the products I have received have been made to extraordinary standards with the birds best interest in mind...They do not only look amazing but my budgie totally adores each and every piece so much so that now he only wants to be on or play with them and has pushed all his old perches/toys aside.

So much love, thought and work has gone in to the making and construction of each one of my items and you can see that they are made by someone who truly understands a pet birds needs and wants.

Karen and Darran have been fantastic making sure I was 100% happy with my items and I know I could email them with a query and they would get back to me straight away ....

Now I have found The Natural Bird Product Company I am sticking with them as I have no need to go anywhere else when buying things for my little Budgie..

I (and my Budgie) could not be happier with the wonderful service and products I have received from this great online shop..

Thank you Karen and Darren and I will be back to buy more

Sarah & Elf (budgie)
Just waiting for Charlie to settle into his new cage to get some pictures, by all accounts he loves the camera so can't wait to see him posing.

The perches arrived yesterday. They are beautiful pieces of wood and they fit the new cage perfectly, now we just need to convince Charlie to go in the new cage!

Thank you for a fantastic service, it's rare to find a supplier who actually really cares about the product they provide.

Have a lovely Christmas and a happy new year.
To anyone wanting to spoil their feathered friend with something special & unique then look no further. This site is amazing & Karen & Darran who own it are two very special people who dedicate their time & energy into ensuring your feathered friend is treated as an individual & that whatever your requirement maybe, it is the right product for your special friend.

I came across this site when wanting to replace the cage of my recently adopted cockatoo Alba. I had a cage in mind, the Montana Grande Castel. Everywhere I had tried were out of stock waiting on deliveries from overseas & none of them seemed to have the time to talk to me, that is, except Karen. We talked for ages & at the end of our conversation Karen wished me well & I felt reassured that the cage I had in mind was suitable for Alba.

Through a cancelled order from another site I finally took delivery of a Montana Grande Castel. Wow was I shocked at the size of this cage when put together.....it was huge. I knew I had made the right choice & my Alba loved her new home but one thing was a disappointment, the perches. Watching Alba on them I could clearly see that they were not suitable for her foot span, being a Greater Sulphur Crested Cockatoo her feet are large.

Out of the blue I get a phone call from Karen asking how I was & if I managed to get hold of a cage. That by itself was amazing & not often come across but what happened next blew me away. After several calls & measurements given to Darran, checked & double checked, I took delivery of a perch for Alba to try out for size before ordering two custom made perches, made specially for her size & foot span.

What a difference I could see between the old perches & trial perch. The order was placed & I soon took delivery....OMG...there before me were two, absolutely stunning, natural full length perches. Check out the site & see what I mean, Alba is modelling her old & new perches for you to see & I think you'll agree..... they look fabulous. Alba is so much happier on her new perches & being natural with curves & nobbly bits she gets a full foot work out every time she's on them.

Thank you so much Darran, you are extremely gifted & what you create out of a piece of wood is breath taking.

Thank you both so very much for what you have done for Alba...she's one happy, spoilt parrot.

Lots of love to you both

Mandie & Alba XX
Just letting you know the desktop perch and swing arrived today in perfect condition. We are over the moon and Ollie has instantly took a liking to them both, as you can see she's already loving the balsa wood toys and nibbling her way through them on both new items, I think I'll be ordering regular refills of those, she's never been so content with a toy...I think we've certainly found her favourite!

Also on the plus side she has stayed well away from the things she shouldn't chew for a change, she's spent a lot of time chewing and perching on them today. The desktop perch is absolutely brilliant, it looks fantastic and is an excellent design and great quality, I can't thank you enough. Ollie has been loving perching on it while posing in the mirror. I've added some photo's of her sampling her new things, and some extra's of the birds on the cage top perch I bought from you previously, the other budgie is my brother's called Harry, he always prefers to sit on there playing, more so than anywhere else.

I will highly recommend the items as they are far superior to any that I've seen in the pet shops and far more bird friendly.

Thank you again for the lovely purchases.

from Laura & Ollie